This week we had the great honour of welcoming Douglas Bjäresten and Lisa Stockhaus to this year's Trainee program for future Baltic Sea Ambassadors.
– The trainee program is a unique opportunity to expand my understanding and knowledge of ocean-related issues, policy work and advocacy. It will be fun to use the tools I learned at university in practice, says Lisa.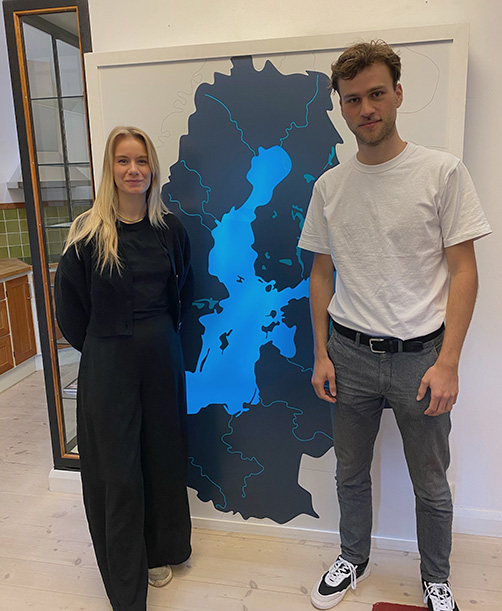 Lisa and Douglas. Photo: Helene Limén, BalticWaters
In the coming weeks, Douglas and Lisa will familiarize themselves with BalticWaters' large-scale demonstration projects and  ongoing work within communication and advocacy. They will also meet researchers and members of parliament to gain more knowledge about Baltic Sea issues and how research findings can be used in decision-making. About a month into the program, they will choose an area and issue to delve into and prepare a case study that points to problems and proposes concrete solutions.
– This is the second year for the trainee program, and it will be very exciting to see what Douglas and Lisa, with their different perspectives, will be extra passionate about and choose to delve into, says Helene Limén, program manager at BalticWaters.
Douglas has just finished the Bachelor program in Economics with a specialization in National Economics at Lund University and Lisa has studied the Master's program in International Administration and Global Governance (IAGG) at the University of Gothenburg.
– I read and hear that the oceans in general, and the Baltic Sea in particular, are not doing well. But the information rarely goes deeper than describing eutrophication and unhealthy fish. I have a great interest in sustainability issues and want to learn more about the actual mechanisms behind the situation we are now facing, says Douglas.
We wish Douglas and Lisa a warm welcome to the foundation!

About the program. The program is aimed at recently graduated students in law, political science, journalism, economics, or pedagogy who want to build on their social science degree with practical environmental science. For 12 weeks, Douglas and Lisa will gain insight into how research is translated into practical measures and how it is disseminated to decision-makers.